БƗƗҚ.13 // A Member of the Club
Bureaucracy in the woods
Katherine and I have spent a number of weekends this summer hiking in New Hampshire's White Mountains. We prepare most everything for these trips the night before, however trial and error has led us to the conclusion that lunch should always be prepared on the day of, as sandwiches get unsatisfyingly soggy after a night in the fridge. So when I awake around 5AM on Saturday morning—the glow of the sun just beginning to fill the sky—I rise from bed, drift to the kitchen, and in solemn silence, spread raspberry jam and almond butter onto bread.
After collecting our things, we make our way downstairs and into the car, where we inevitably become blindsided by the rising sun as we twist and turn through quiet Cambridge streets. At that hour, I-93 can feel like a private highway from Boston to the White Mountains: we drive about 150 of I-93's 190 total miles, past lakes and hills, slowly gaining elevation until the road narrows and we enter the White Mountain National Forest at Franconia Notch.
The 7.6 mile stretch of I-93 that passes through Franconia Notch is the only multi-mile stretch of two lane interstate highway in the United States, which gives the drive a pre-Eisenhower feel. Conservationists fought hard to prevent highway expansion in the White Mountains, citing the numerous trails, flumes, and ponds that would be disturbed or destroyed by an additional two lanes of traffic. They also invoked that patron saint of New Hampshire, the Old Man in the Mountain, claiming that additional car traffic might disturb the rock formation who resided high above I-93 on the side of Cannon Mountain. While the road wasn't widened, the Old Man nevertheless collapsed in 2003.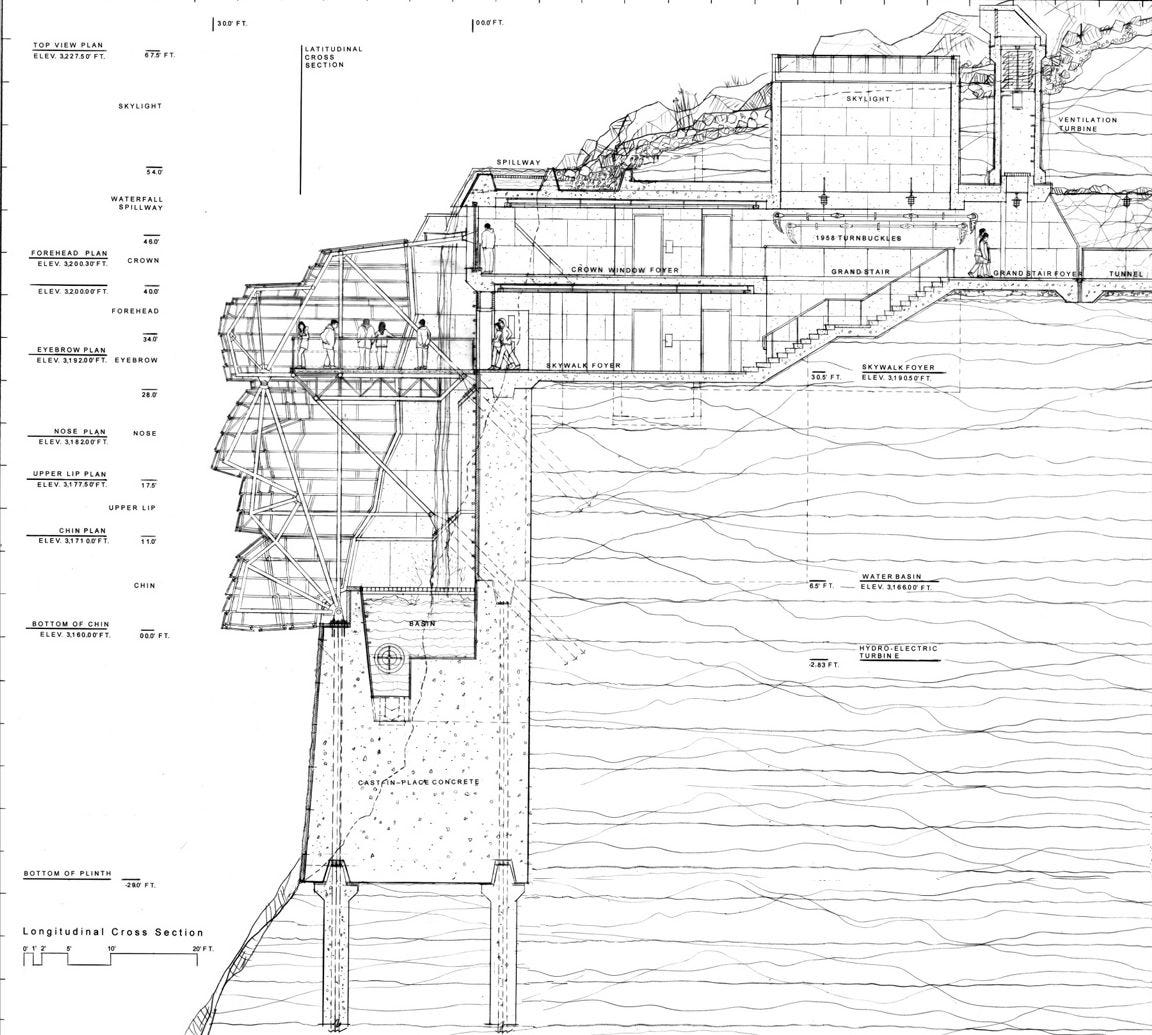 A rejected architectural rendering for a glass replica/observation deck to be built in the original location of the Old Man in the Mountain. ( Source:

Francis D. Treves Architect

)
The White Mountains contain the highest concentration of alpine terrain in the eastern United States. The Appalachian Trail passes over or close to the summit of 16 4,000 foot peaks along its 161 miles in New Hampshire, and with a few side trips, thru hikers can summit an additional 14 4,000 footers. The Appalachian Mountain Club recognizes a total of 48 4,000 foot peaks across New Hampshire, defining a "peak" as a mountain with at least 200 feet of prominence from nearby ridgelines. If you climb all 48, the AMC will send you a patch in the mail. Additional patches are available if you climb all the peaks in winter, add on the 4,000 footers in Maine and Vermont, etc. The AMC's FAQ page for patch seekers is wonderfully detailed; one entry in particular caught my eye:
Q. Can my dog become a member of the Club?

A. Dogs may be recognized for completing the White Mountain 4000-footers (non-winter) as a companion, assuming of course that they (or their human representative) pay the application fee. Because Baxter State Park [in Maine] does not allow dogs, they cannot be eligible for either of the New England lists. Dogs are not eligible for winter list recognition. (There is one dog recipient that predated this policy decision.)
Unfortunately, I couldn't find anything online about this one dog recipient, though I'm sure that the details are somewhere in the AMC's archive. For lack of more information about this dog, I remain appreciative that she or he will always remain a footnote (pawnote?) in this list of people who completed the entirely human-constructed achievement of climbing certain mountains in a certain place at a certain time.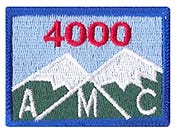 The AMC Four Thousand Footer Winter Patch, which is no longer awarded to dogs. (Source:

NH Mountain Hiking

)
I'm not sure why dogs are no longer eligible for winter list recognition, though I imagine it's because of the extreme weather: Mount Washington held the record for fastest wind speed ever recorded on Earth for nearly 62 years (231 miles per hour), and winter temperatures in the alpine zone rival that of Antarctica. The twice-daily Higher Summits Forecast from the Mount Washington Observatory provides an often ominous snapshot of the weather year round, but especially in the winter where the temperature rarely rises above 15°F. I wish this were broadcast live like BBC's Shipping Forecast, but alas, the audio version of the Higher Summits Forecast takes the format of an "Amazon Alexa Skill", which is now a thing that I am burdened to know exists.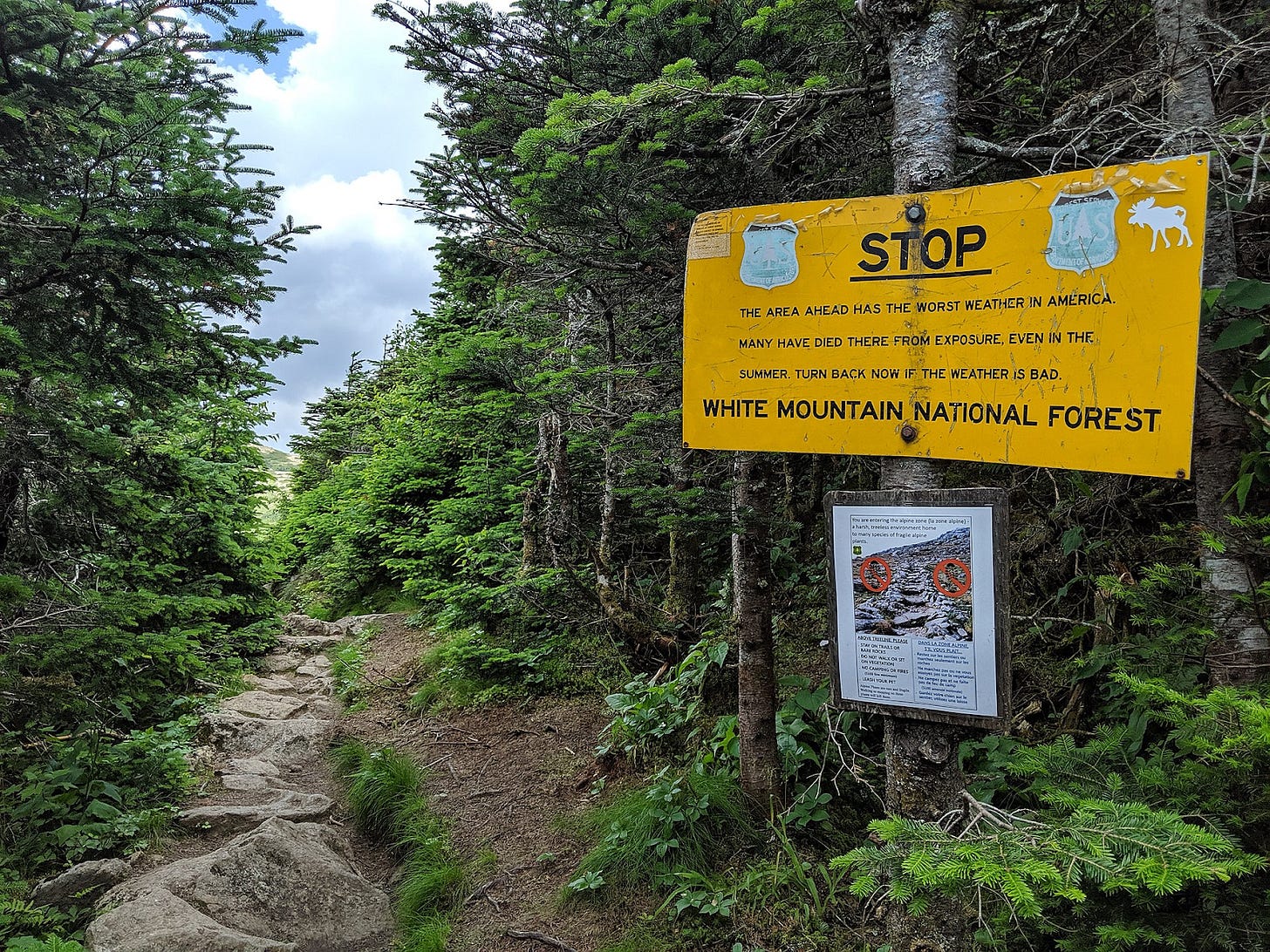 "The area ahead has the worst weather in America" sign appears when entering the alpine zone in the White Mountains. (Source:

Sayden via WikiCommons

).
After the weather, the next biggest hazard hiking in the White Mountains might be black bears. Bears have great memories and a sense of smell magnitudes better than bloodhounds, which means that protecting your food in the backcountry is as important for you and as it is for future hikers who may sleep where you slept. There are two primary schools of thought on how to keep food from bears: hang food from a tree or store it in a tamper-proof container called a bear canister. With the increase in hiking popularity over the past few decades, bears have mostly caught onto the hanging method: they have been found clawing at tie-down ropes and sending their cubs out onto precariously thin branches to swat at food bags. Because of this, the US Department of Agriculture now classifies tree hanging as a "delay tactic" rather than a method of bear prevention.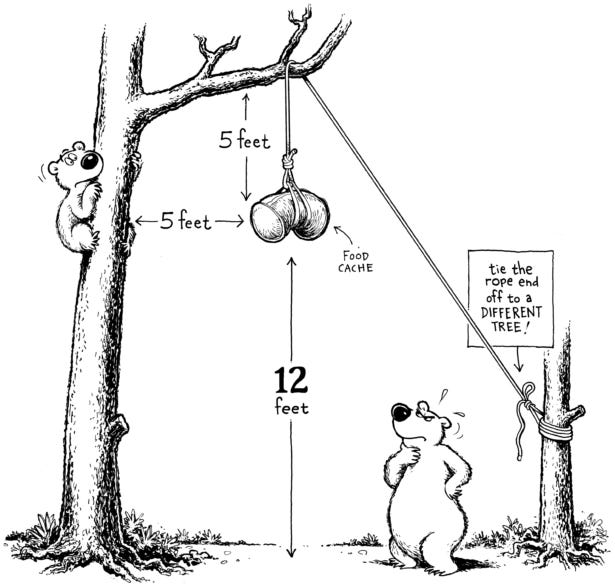 Bears have for the most part cracked this problem. (Source:

NOLS

)
I recently purchased a canister called the BearVault BV450, which is basically a cross between a child-resistant pill bottle and one of those blue plastic water jug dispensers. The BearVault is approved by the two preeminent certification bodies for bear resistant product testing, the Sierra Interagency Black Bear Group (SIBBG) and the Interagency Grizzly Bear Committee (IGBC), the latter of which elaborately details their bear testing protocol on their website. I can't say that I found the protocol terribly surprising—they put food in canisters and let bears try to get into it—but, like the dog who earned a winter hiking badge, it was amusing to see animal activity explained in such human terms. There are a lot of gems, but I'll share just one:
Products will remain in the bear enclosure and accessible to bears until breached or until a total of 60 minutes of "bear contact time" has been reached (or until bears lose interest – see "Special Testing Procedure for Metal Products" at the bottom of this section). "Bear contact time" is defined as biting, clawing, pounding, rolling, compressing, chewing or scratching by the captive test bear(s). Please note that licking does not count toward bear contact time.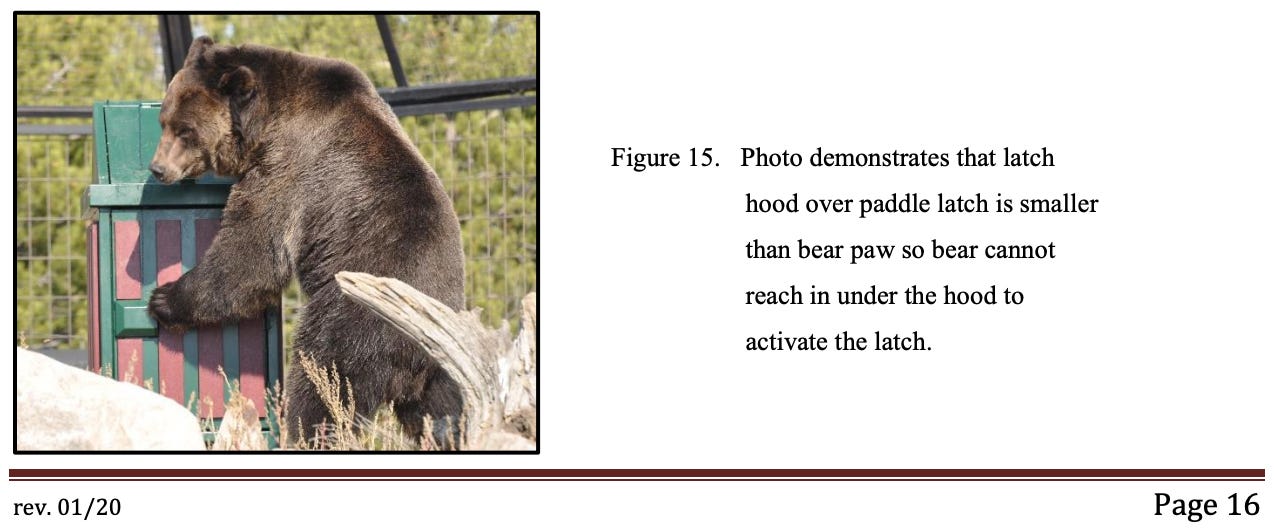 User testing. Screenshot from Interagency Grizzly Bear Committee's Testing Protocol For the 2020 Testing Season (Source:

IGBC

)
While researching the BearVault BV450, I noticed that the few bad reviews came almost exclusively from upstate New York. It turns out that there was a bear in the High Peaks region of the Adirondacks who figured out how to open the BearVault in 2007. Named for the yellow tags in each of her ears, Yellow Yellow opened the BearVault in a human-like fashion, unscrewing the lid around the hard plastic security notch with her tooth. BearVault added a second security notch to their products in 2008, but Yellow Yellow got into those, too. Because no other bear was able to breach the BearVault, the product retained its certifications for the duration of time that Yellow Yellow wreaked havoc in New York.  
Yellow Yellow was killed by hunters in 2012 ("she was a very unique bear", eulogized the founder of BearVault), but the New York Department of Environmental Conservation continues to ban all clear plastic bear canisters in the High Peaks Wilderness. It turns out that in the years since Yellow Yellow's death, bears in the region have continued to go after BearVaults and similar looking canisters, eventually breaching them through a combination of "brute force and patience". And so while Yellow Yellow didn't pass along the details of her trade secrets, it's possible that she did grant her contemporaries the confidence that they needed to breach those plastic food-filled canisters one way or another. For now, this knowledge/confidence seems limited to the bears of the High Peaks Wilderness of the Adirondacks. For now.
Thanks for reading,
-- Grif